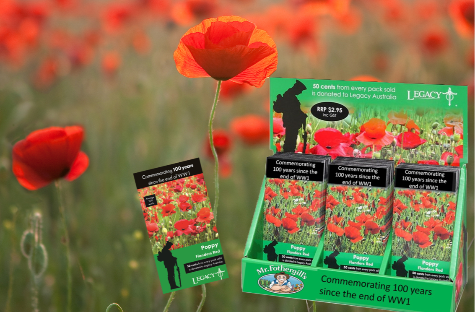 Gallipoli 100th Anniversary
Commemorative Poppy Seeds
. . . the poppies blow between the crosses row on row . . .
The 25th of April 2015 marked the 100th anniversary of the ANZAC landings at Gallipoli. Over the years Anzac Day has become one of the most important national occasions for Australians and New Zealanders, and the Centenary further enhanced the importance of this historical event. Anzac day does not celebrate a military victory but instead serves as an opportunity to commemorate all of the Australians and New Zealanders who served and died in all wars, conflicts and peacekeeping operations, and the contribution of all those who have served.
The red poppy was one of the first to grow and bloom in the mud and soil of World War 1 battlefields. The connection was made, most famously, by Lieutenant Colonel John McCrae in his poem 'In Flanders fields'.The red Flanders poppy has become a symbol of war remembrance the world over, and for Aussies and Kiwis it is a symbol for the ANZAC day commemorations - to remember those who died in war or who still serve.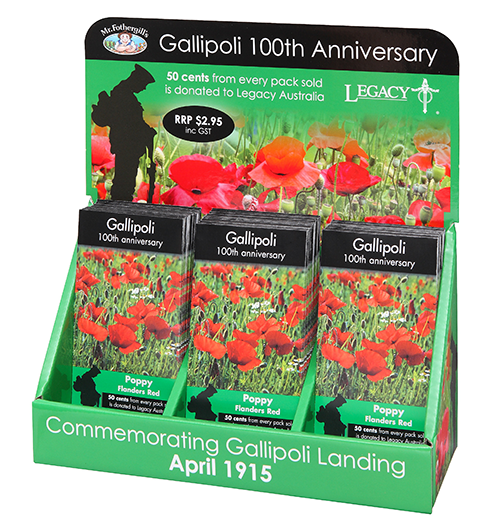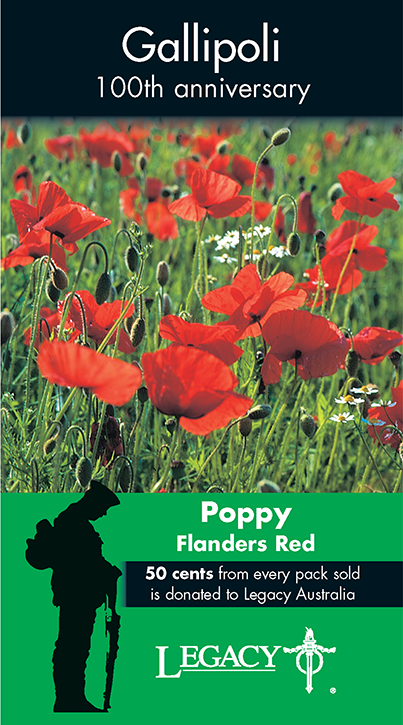 For every seed packet sold Mr Fothergill's Seeds donated 50c to Legacy Australia
To mark the Centenary, Mr Fothergill's Seeds partnered with Legacy Australia to develop a commemorative Flanders Poppy seed packet that invited all Australians to participate in the occasion by planting Flanders Poppies in their home garden. By doing so it supported the great work of Legacy Australia, who received a 50c donation from Mr Fothergill's Seeds for every commemorative packet of poppies sold.
About Legacy Australia
Legacy is dedicated to caring for the families of deceased and incapacitated veterans. Today Legacy's caring and compassionate service assists around 90,000 widows and 1,900 children and dependants with a disability. Legacy is a voluntary organisation supported by veterans, servicemen and women, and volunteers drawn from all walks of life. Their support and services now extend to include the dependants of members of today's Australian Defence Force who lose their lives or their health as a result of their military service. Legacy is dedicated to enhancing the lives and opportunities of families through innovative and practical programs aimed at:
The protection of individuals and families basic needs
Advocating for their entitlements, rights and benefits
Assisting families through bereavement
Helping people thrive, despite their adversity and loss
The Commemorative Poppy seed packets were distributed through Bunnings, Masters Home Improvement and independent garden retailers nationwide
A Resounding Success
The Commemorative Gallipoli Campaign raised all-important awareness for Legacy Australia with hundreds of thousands online impressions and millions of media impressions
The Legacy and Mr Fothergill's partnership was a resounding success. At the end of the promotion, Mr Fothergill's Seeds were thrilled to be able to donate a phenomenal $38,849 to Legacy Australia.
Flanders Poppy is a widely recognised symbol of the war and it's fallen heroes
. . . we will remember them . . .