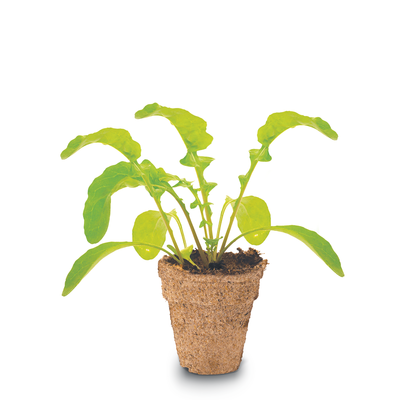 Common Name: Salad Rocket. Also known as Arugula/Rucola
Botanical Name: Eruca sativa
When to Sow: Spring and Autumn
Planting Position: Full sun to part shade location and well-drained soil.
Days to Germinate: 5-10 days
Ready to Harvest: 3-5 weeks
Lifespan: Annual - Lasts one year
Fertilise: Feed weekly with a liquid fertiliser
Did you know?
Rocket is a super-food hero. It is not only renowned for its bite, but it also packs a punch of vitamins ... and all this with just half a calorie per leaf!
It is known as 'rocket' simply because of its rocket-fast growth speed.
About Rocket: Rocket is one powerful salad green. It is packed full of vital nutrients and antioxidants that clean the blood, detoxify the body and boost oxygen levels. It also can have a cooling effect on the body, hence its popularity as a Summer salad ingredient.
Tips for growing: Keep soil consistently moist for the best flavoured leaves and to prevent bolting. Rocket leaves taste best when harvested while small, the pepperiness intensifies as the plant gets bigger. Sow new seeds every 2 - 3 weeks so you have a continuous supply of rocket.
Companion Plants - plant Rocket with: beans, dill, mint, nasturtium and thyme.