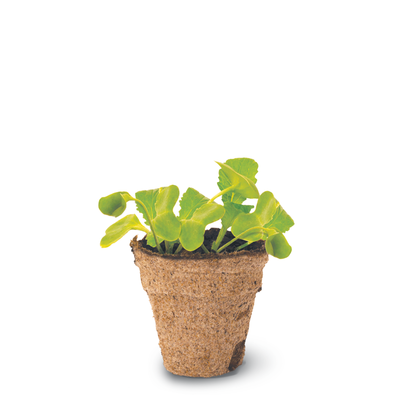 Common Name: Radish
Botanical Name: Raphanus sativus
When to Sow: Spring and Autumn
Planting Position: Sun to part shade with loose well-drained soil free from rocks
Days to Germinate: 5-8 days
Ready to Harvest: 4-6 weeks
Lifespan: Annual - Lasts one year
Fertilise: Feed weekly with a liquid fertiliser
Did you know?
Most commonly a child's first seeds to sow because they grow rapidly. The scientific name for the genus that includes radishes is Raphanus, Greek for 'quickly appearing'.
About Radish: A crisp, peppery radish is the perfect Summer finger food and adds a tasty crunch to salads. The Little Seed Garden radish variety produces bright red round radishes that are juicy and sweet, but radishes can be round or long and come in a colourful confetti of pink, red, purple or white.
Tips for growing: Plant your new radish plants into warm loose soil and give them plenty of room to grow. Prepare your garden by adding about 10cm of organic matter such as compost, either make your own compost or buy from your local garden centre. Loosen the soil to a depth of 30 40cm before planting and position your plants at least 5cm apart.
Sow small batches of seed from mid September to late October for a continuous supply of young crisp radishes.
Companion Plants - plant Radish with: Peas, nasturtium, lettuce, cucumber, beets, spinach, carrots, zucchini, melons and tomatoes.
Warnings: Avoid growing near kohl rabi, hyssop and gherkins.