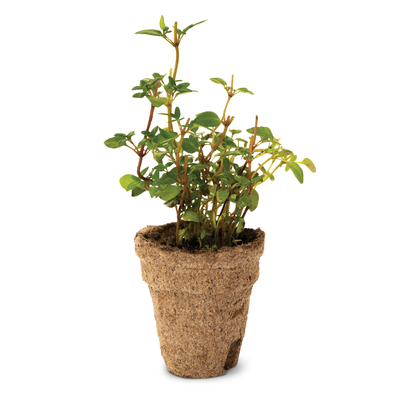 Common Name: Thyme
Botanical Name: Thymus vulgaris
When to Sow: Autumn and early Spring
Planting Position: Plenty of sunlight in well drained soil
Days to Germinate: 16-24 days
Ready to Harvest: 12-14 weeks
Lifespan: Perennial - Lasts more than 2 years
Fertilise: Seedlings do not need much fertiliser, feed when they are 3-4 weeks old with a half strength liquid fertiliser
Did you know?
Thyme dates back to ancient Greece, where it symbolised courage. Roman soldiers bathed in water infused with thyme to gain vigour, courage and strength.
Thyme is an important nectar source plant. It is a highly fragrant and a popular herb to attract bees and butterflies to your garden.
About Thyme: Thyme is one of the most versatile herbs, it is rich in antioxidants and complements a great variety of meats and vegetables. Try sprinkled over carrots and add to your next roast vegetable platter.
Tips for growing: To harvest thyme, cut the leaves at any time of the year and either use them fresh, or dry them out by hanging them upside down. Keep thyme as a houseplant to use year round.
Companion Plants - plant Thyme with: the cabbage family, eggplant, onion, sage and tomatoes. Thyme looks great and also enhances the fragrance of other herbs and protects and improves the taste of companion vegetables.