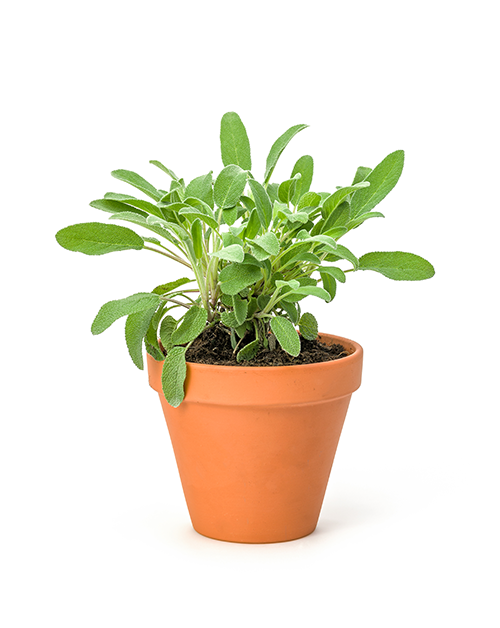 Common Name: Sage
Botanical Name: Salvia officinalis
When to Sow: Spring through to Autumn
Planting Position: Performs best in full sun and will tolerate quite dry conditions. Choose a well-drained spot so that the roots do not become waterlogged
Days to Germinate: 16-20 days
Ready to Harvest: Once plants have established in approx. 12-14 weeks
Lifespan: Perennial - Lasts over two years
Fertilise: Dig in plenty of organic garden compost prior to planting. Feed sage, starting one month after planting with a granular Tomato, Fruit & Vegetable Plant Food, and then subsequently every 3 months
Did you know?
Simon and Garfunkel's hit song, "Scarborough Fair," with lyrics "Parsley, Sage, Rosemary and Thyme." was thought to be adapted from an old English ballad about the Great Plague. In the Middle Ages parsley, sage, rosemary, and thyme were commonly used medicinally and may have been used to treat this violent epidemic.
Or the other speculation is these four herbs were the main ingredients in a witches concoction and the song was about winning love or dying from a broken heart.
In any event, parsley, sage, rosemary, and thyme were revered for their healing and magical powers, and those healing powers are as present and valuable today
About Sage: Sage is a perfect candidate for container gardening it doesn't mind dry conditions and it has no real enemies.
Tips for growing: When sage leaves look wilted, little water perks the entire plant up. Wait until the soil is dry then give it a thorough watering.
Also, resist the temptation to over-fertilize; the sage might grow a little faster, but its flavour will be less intense.
Sage bursts into a show of purple flowers in Summer and will attract beneficial bees and insects in droves.
Companion Plants - plant Sage with carrots, cabbage, cauliflower and strawberries.