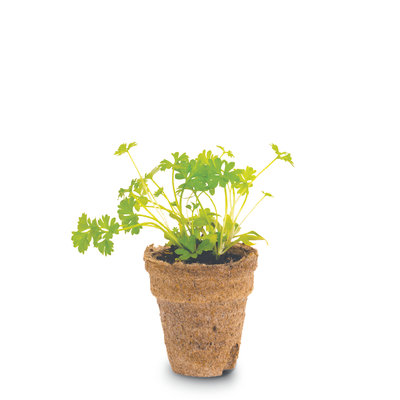 Common Name: Italian Parsley
Botanical Name: Petroselinum crispum
When to Sow: Late Spring - Autumn
Planting Position: Likes full sun in a well drained soil enriched with compost.
Days to Germinate: 21-28 days
Ready to Harvest: 12-14 weeks
Lifespan: Biennial - Lasts up to two years
Fertilise: Feed weekly with a liquid fertiliser.
Did you know?
Parsley is only grown from seeds. Germination takes anywhere from 4 to 6 weeks. If you want to speed up the process soak the parsley seeds in warm water overnight before planting.
Parsley is a biennial that means it flowers in the second year and dies. The first year, parsley will produce a mass of foliage, the following second Summer it will produce clusters of tiny yellow flowers that are highly attractive to bees and butterflies.
About Parsley: Italian Parsley or flat leaf parsley is a popular garnish but also has a wide range of culinary uses.
Tips for growing: Parsley is ready to use in about 10 weeks from sowing the seeds. Cut the leaves off at the base of the stem and cut outer leaves first.
Companion Plants - plant Parsley with: chives, carrots, corn, chilli, capsicums, onions, peas, roses and tomatoes.
Warnings: Do not plant near mint or lettuce.