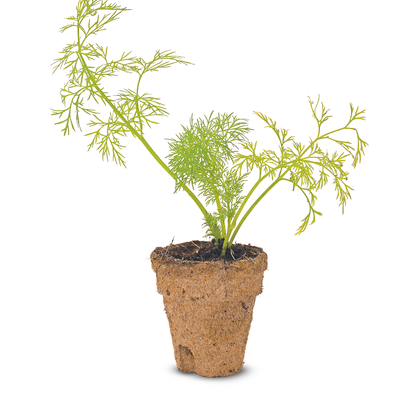 Common Name: Dill
Botanical Name: Anethum graveolens
When to Sow: Spring - Summer
Planting Position: Loves the sun and will handle some shade in a well-drained soil with added compost.
Days to Germinate: 7 - 10 days
Ready to Harvest: 12 weeks
Lifespan: Biennial - Lasts up to two years.
Fertilise: Give seedlings a good dose of liquid fertiliser when plants are about 10cm tall.
Did you know?
Dill belongs to the parsley family and other hollow stem plants like celery and carrots.
Dill is a fast growing herb and therefore can be prone to "bolting" (quickly flowering and setting seed). This reduces its leaf production which is the part you eat.
You can reduce the chance of early bolting by keeping plants in a cooler/shadier location, pinching the flowers off and by harvesting the plant while it is still immature. The more you harvest the plant, the more energy it puts into leafing rather than flower production.
About Dill: Fresh dill leaves are delicate and feathery with a slight aniseed flavour. It is used in bread and pickles and commonly added to sauerkraut, yoghurt, sour cream and salad dressings.
Tips for growing: When planting in to a container, use a deep container to accommodate the long roots. The plants can eventually grow up to 90cm tall and will look best planted at the back of your garden border.
Companion Plants - plant Dill with: cabbage, broccoli, cauliflower, kale, corn, cucumber, lettuce and onions.
Warnings: Do not plant near carrots, caraway, fennel or angelica