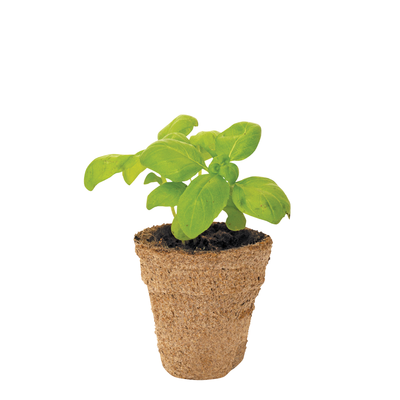 Common Name: Sweet Basil
Botanical Name: Ocimum basilicum
When to Sow: Spring - Summer
Planting Position: Well drained soil in full sun
Days to Germinate: 5 - 7 days
Ready to Harvest: 8 weeks
Lifespan: Annual - Lasts one year
Fertilise: Feed once a month
Did you know?
The secret to growing vigorous bushy plants is to pick basil often.
When storing basil the first thing you need to know is that you should never put your fresh basil in the fridge! Basil is a delicate herb with a high moisture content, and it does not like the cold temperatures.
Try putting your excess basil in a glass of water at room temperature out of direct sunlight just like cut flowers. Remove the lower leaves to keep them out of the water, then put a plastic bag over the whole glass to help keep the moisture from escaping! It's not the prettiest, but it definitely works! Your basil will keep for at least a week with this technique.
About Basil: Basil is one of the must-have annual herbs to grow. Basil and tomato are perfect partners and Italian cuisine would not be complete without them. Basil is a popular addition to pestos, pastas, pizzas, salads and soups.
Tips for growing: You can start harvesting from your basil plant when it reaches about 15cm high. Cut or pinch right above a leaf pair to encourage more growth.
Companion Plants - plant Basil with: beans, beets, chilli, capsicum, eggplant, marigolds, oregano, potatoes and tomatoes. Growing tomatoes and basil near each other is said to make both crops taste better.
Warnings: Do not plant near broccoli, cabbage, cauliflower, cucumbers or kale.