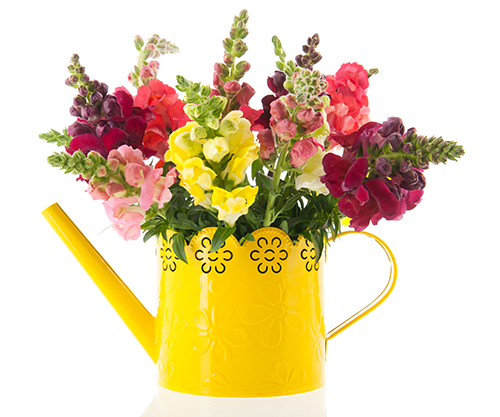 Common Name: Snapdragon
Botanical Name: Antirrhinum majus
When to Sow: Spring to Autumn
Planting Position: In a sunny well-drained spot.
Days to Germinate: 10-14 days
Flowers in: 16 weeks
Lifespan: Short-lived perennial treated as an annual. Annual - Lasts one year
Fertilise: Feed seedlings fortnightly with a soluble liquid fertiliser
Did you know?
Commonly called Dragon flowers because of their jawlike florets. Many a child has enjoyed pressing on the side of the flowers so they seem to be talking.
Tender perennials are grown as annuals. They like the cooler weather and stop flowering in high temperatures. Long flowering in the garden and lasts well in the vase.
About Snapdragons: Snapdragons flower during summer and autumn, and removing the dead flowers will encourage more to grow
Tips for growing: Seeds can be sown direct or preferably in seed boxes or punnets. Sprinkle seeds thinly on the soil surface and gently press firm. Spray with a fine mist and keep moist. Thin as necessary to final plant spacing 30cm apart.
Cut Flowers: Tall varieties grow up to 45cm and make great cut flowers.
Bee & Butterfly Friendly - snapdragons attract: bees, butterflies and insects to the garden with their big florets and rich colours.