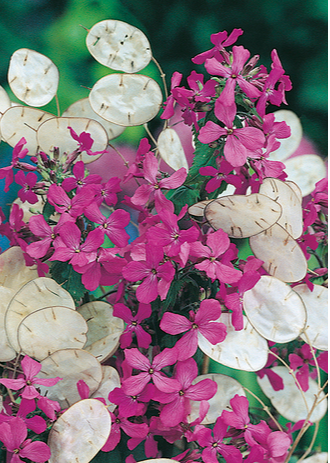 Common Name: Money Plant is also known as Honesty, Silver Dollar Plant and Satin Flower
Botanical Name: Lunaria annua
When to Sow: Spring and Autumn
Planting Position: In cool semi-shaded position
Days to Germinate: 14-21 days
Flowers in: 12 weeks
Lifespan: Biennial - Lasts up to two years.
Fertilise: Feed seedlings fortnightly with a soluble liquid fertiliser and then just prior to flowering
Did you know?
Money Plant seeds germinate easily and will grow large leafy plants in the first year.
You can eat the leaves, flowers and seeds of the money plant. The flowers are known for their cabbage-like flavour and a great addition to salads or as a plate decoration.
Bees are attracted to the deep purple flowers
About Money Plant: Money Plant is famous for the silvery white, translucent papery seed pods. Plants flower in clusters of lavender blooms in Spring and form pods the second summer after seeds are sown. It is these coin-shaped pods that make it appealing for dried flower arrangements.
Tips for growing: Plant self sows readily and returns year after year. Choose a spot where they can grow and be left undisturbed
How to dry seed pots: Cut when fully developed, bunch and hang stems upside down in an airy place until completely dry, approximately 2-3 weeks. The brown husks that cover the seed pods can be removed by gently rubbing between the finger and thumb.