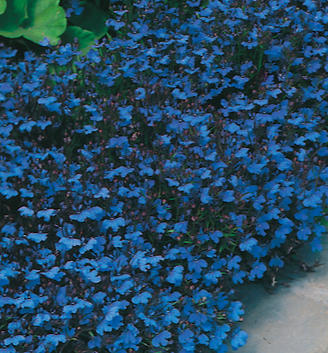 Common Name: Lobelia
Botanical Name: Lobelia erinus
When to Sow: Autumn Spring
Days to Germinate: 10-14 days
Flowers in: 12 weeks
Lifespan: Annual - Lasts one year
Fertilise: Feed seedlings fortnightly with a soluble liquid fertiliser
Did you know?
Lobelia seed is very fine and needs light to germinate. Sprinkle seed lightly on the surface of moist soil and press gently.
Helpful tip: If starting seeds indoors sow the seeds, press gently into the surface of the soil. Mist lightly and cover the pot with cling film this creates a little greenhouse to keep the temperature and moisture constant. Once seeds begin to sprout the film can be removed.
About Lobelia: Lobelia is such versatile flower its small dainty blooms smother compact plants making it an ideal edging plant. Lobelia has a particularly long flowering period and likes a sunny position, a perfect choice for hanging baskets and window boxes.
Tips for growing: Sow seeds direct into the garden or start seeds in biodegradable peat pots to move the plant, pot and all to another position.