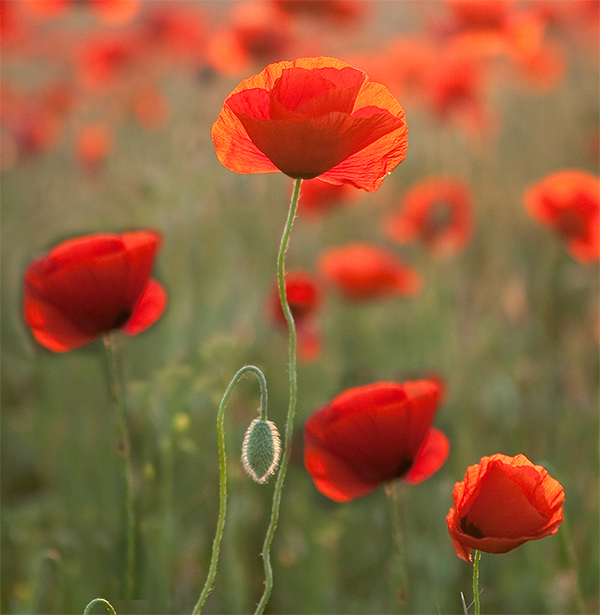 Common Name: Flanders Poppy also known as Soldier, Field and Red Poppy.
Botanical Name: Papaver rhoeas
When to Sow: Autumn (and early Spring in cooler climates)
Planting Position: Well-drained position. Enjoys lots of morning sun and shelter from strong winds.
Days to Germinate: 10-14 days
Flowers in: 8-12 weeks
Lifespan: Treated as an annual. Annual - Lasts one year
Fertilise: Feed seedlings fortnightly with a soluble liquid fertiliser and prior to flowering
Did you know?
The Flanders poppy is probably the best known of all the poppies as it has become the international symbol for Remembrance Day. After World War 1 these poppies grew in profusion over the fields of battle with carpets of red flowers as far as the eye could see.
Poppies of Remembrance - Lest We Forget
Poppies adorn the panels of the Memorial's Roll of Honour, placed beside names as a small personal tribute to the memory of a particular person, or to any of the thousands of individuals commemorated there. This practice began at the interment of the Unknown Australian Soldier on 11 November 1993.
About Flanders Poppy: You can never have too many poppies in your garden plant large drifts in a border or dot through a flower bed or even in a large pot.
Tips for growing: Sprinkle seeds thinly on the soil surface and gently press firm. Spray with a fine mist and keep moist. Thin as necessary to final plant spacing 20cm apart. Pinch out the early buds to encourage good strong clumps. Remove old blooms to encourage new flowers
Bee & Butterfly Friendly - Flanders Poppy attract bees, butterflies and insects to the garden with their brilliant red flowers nodding in the breeze. Poppies are loved by bees and get their name because the flower buds literally 'pop' open in the morning sun.