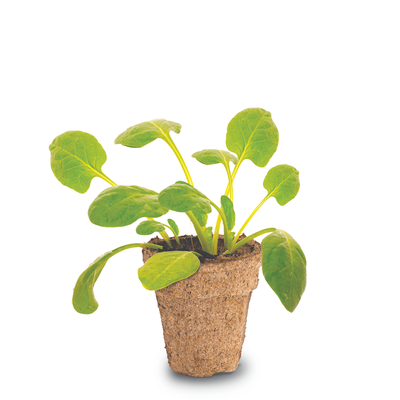 Common Name: Spinach
Botanical Name: Spinacia oleracea
When to Sow: Early Spring, Autumn and Winter
Planting Position: Full sun to light shade in any good well-drained soil
Days to Germinate: 14-21 days
Ready to Harvest: 6-7 weeks
Lifespan: Annual - Lasts one year
Fertilise: Feed fortnightly with a liquid fertiliser.
Is it healthier to eat spinach raw or cooked?
The main difference between fresh and cooked spinach is the level of vitamins they contain. Each 100 gram serving of fresh spinach provides half the daily value for vitamin C, but the same amount of cooked spinach only contains 16 percent. Fresh spinach contains half the daily value of iron and cooked spinach only 38 percent. Cooked spinach, however, contains a bit more of vitamins A, B-6, K and riboflavin. The best way to eat spinach is the way you enjoy it most.
About Spinach: It's easy to grow your own baby spinach leaves and you can harvest the leaves as you need them! For a continual supply sow a new batch of seeds every 2 to 3 weeks. Spinach likes similar growing conditions to lettuce, but it is more versatile, is more nutritious and can be eaten raw or cooked.
Tips for growing: Spinach likes the cool, to protect young plants from the hottest part of the day plant in the shade of tall crops such as corn or beans
Companion Plants - plant Spinach with: strawberries, broad beans, cauliflower and most other greens.