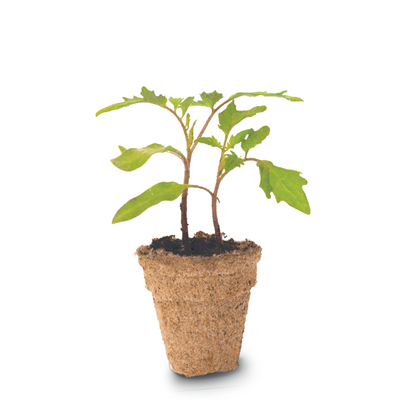 Common Name: Container Tomato
Botanical Name: Solanum lycopersicum
When to Sow: Spring - Summer
Planting Position: Full sun with protection from strong winds. Needs warm soil that includes lots of compost.
Days to Germinate: 10-14 days
Ready to Harvest: 8-12 weeks
Lifespan: Annual - Lasts one year
Fertilise: Feed seedlings fortnightly early and mid season with a liquid fertiliser. But once the plants start to flower feed with a 'flower and fruit' fertiliser every two weeks
Did you know?
If you see the word 'indeterminate' on the packet of seeds then it is recommended that you support your tomato plants in some way. A tomato cage or bamboo stakes are popular options. Upside down plants are a novel and fun way to achieve the same results as staking.
Native bees can help you grow tastier tomatoes. It all has to do with how bees improve the pollination of tomato flowers.
About Tomato: Tomatoes come in many shapes, colours and sizes the one thing they all have in common is the ones your grow yourself are the sweetest and tastiest!
Tips for growing: There are many advantages of supporting (staking) your tomato plant: It's easier to trim away foliage to allow the plant to energise less leaves providing more food to the fruit. It allows better air flow around the plant therefore less disease, and it keeps the fruit off the ground for cleaner less spoilt fruit.
Companion Plants - plant Tomato with: chives, onion, parsley, marigold, nasturtium, carrot and roses.