Little Gardener Lost
Posted on 6 December 2018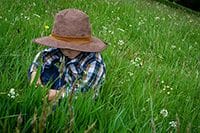 We haven't just lost one little gardener but a whole generation. If you are aged between 25 and 40 you are less likely to have or tend a garden.
There are several theories why this has happened
Outdoor areas were transformed
Parents of this lost generation of little gardeners started the trend of turning outdoor areas into extensions of their living room. Suddenly vegetable patches were paved or substituted for a deck and plants replaced with outdoor furniture. The low maintenance outdoor area became the norm.
Mums went out to work
This is the generation when mums went out to work and consequently, families no longer had time to teach children about plants and gardens.
Homes without gardens and families without time gardening skills were lost.
Little gardener found
The good news is that gardening is now a part of our many of our school education programs. And by teaching children about nature and the environment a new generation of little gardeners has been created. From early learning centres to school and community gardens children and their families are getting more involved in educational gardening activity.
Gardening is not only about learning new skills it also develops self-confidence, responsibility and patience and essentially is about having fun with the family and the satisfaction of growing your own food.
Growing plants and learning about the environment is a positive lifestyle change that is welcomed and we look forward to many more generations of little gardeners.
Post comment