Growing Gifts for Every Occasion
Posted on 21 December 2018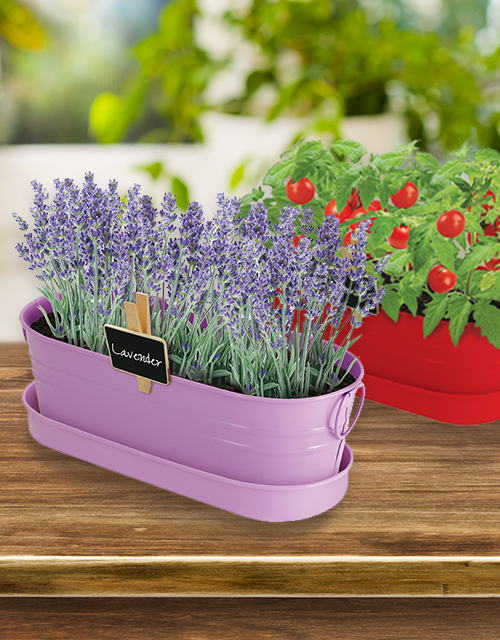 Gifts that keep on giving
Growing gifts are a great alternative to traditional perishable, plastic or battery operated gifts, and they're better for the environment and waistline too!
Grass Hair Kits - These cute little critters make the perfect gift for kids and adults alike. At under $5 they make perfect stocking stuffers, school friend gifts, or office gifts for colleagues. There is a huge selection of different designs to choose from (including Easter, Halloween and Christmas ranges). Growing their grass hair makes them interactive and educational, and decorating their hair once it is grown is so much fun.
Bee & Butterfly Houses - With the world becoming more conscious about protecting our bees and pollinators, these cute wooden insect houses make the perfect gift for the person with everything! These houses have been specifically made to attract native bees (many of which are stingless), beneficial insects and butterflies. They even come with a sachet of insect attracting flower seeds. By welcoming these little creatures into your garden you're doing your little bit to ensure our crops continue to be pollinated for years to come. Ask about these and our formated bee & butterfly-attracting flower and herb mixes.
Herb Grow Pouches - Herbs are hardy and can grow in even the smallest of places, including on a windowsill. Our Herb Grow Pouches are a complete kit, they come with soil pellets, seeds and the packaging turns into a waterproof pot. At just $5 they make a great corporate gift for staff, or as a thoughtful gift for anyone who likes cooking. They are lightweight and slimline, so are perfect for posting too.
Bio Pot Kits - These kits make beautiful little gifts for the environmentally conscious. The coloured biodegradable bamboo pots come complete with seeds and soil to get growing straight away. Approximate retail value: $10.00 each
HydroGarden - If you're looking for a super unique gift, then you can't go past the HydroGarden hydroponic kit. The HydroGarden allows you to grow fresh herbs, veggies and flowers indoors anywhere. The HydroGarden provides the right amount of light, water and nutrients to your plants, making growing super easy. The kit comes complete with everything to get started including a growing medium (vermiculite), growing light, herb seeds and nutrient sachets. Just add water! This unit is compact enough to sit on a desk and takes minimal space on a kitchen benchtop.
Little Gardeners Mini Greenhouse - Get the kids into gardening with their own mini greenhouse kit. This cute kit comes with everything you need to build your own greenhouse, it includes the greenhouse, soil pellets, plant tags and 3 seed varieties (Cherry Tomato, Basil and Giant Sunflower). Just build, sow and grow your very own vegetables, herbs and flowers at home! This greenhouse is constructed from heavy-duty plastic so will last for seasons, it dismantles for easy storage between seasons too. Retail value $17.00, it's a winner for your pocket too!
Mason Jar Grow Kits - Mason jars continue to feature in design trends, and these beautiful Mason Jar Grow Kits are no exception. Each kit contains a mason jar, seed packet, soil pellet and a burlap bag for that rustic touch. There are five varieties to choose from. Perfect as teacher gifts, or for loved ones.
Grow Kit Tins - Each kit contains a colourful tin pot, seeds and soil pellet. Available in small round, or large oval sizes in a variety of herb, vegetable and flower varieties. Ranging from $8.00 to $15.00 they are great value.
Sprouter and Microgreens Growing Kits - If you know a foodie or health fanatic, then our range of sprout and microgreen kits are a perfect gift! Our simple growing kits allow you to grow your own fresh sprouts/microgreens hydroponically at home. We have a range of seeds to grow in these too!
Square Ceramic Pot Kits - These high quality ceramic pots look elegant in any home or office. They come complete with seeds, soil pellet and a metal plant tag to decorate the pot. Retail value just $10.00 they are perfect for the office secret Santa, or as an alternative to the boring box of chocolates.
Succulent Pod - This is the ultimate office gift. Grow small succulents or indoor plants in this attractive desktop unit. It provides plants with the right amount of light and ventilation to grow where natural light may be lacking. Simply plug the USB cord into your computer to power the unit.
Seeds - Seeds make a lovely gift for any gardener from the reliable tried and true lines to the latest new seed releases. A couple of dollars per packet will provide rows and rows of vegetables or pretty colour for your flower beds.
Post comment